Hession Plastering Ltd.
External Plastering in Dublin
Our experience of external plastering is unmatched. We are fast, professional and customer focused. Our wealth of experience ranges from large scale commercial projects to residential patching and renovation projects. All our external plastering projects (just like all our plastering projects) are completed to the highest possible standards, on time – every time! If you need internal plastering with finishes that are unsurpassed, look no further – Hession Plastering Ltd. is the only plastering company you need.
Please see our gallery page for examples of our completed work.
Professional External Plastering in Dublin
For skilled industrial plastering, you only need to speak with us! We are skilled plastering professionals who dedicate ourselves to giving the best possible finishes, for the best possible rates. We only use the best materials, labour and tools to consistently out perform our competition. From small scale domestic projects to large industrial projects, we always ensure the best finishes and take pride in what we do.
Speak with Hession Plastering Ltd. to get fast, reliable quotations for all types of industrial project. Our attention to details and pride in our work is only matched by our rates. We will always try to offer the best rates for work that is perfection – on time and on budget – every time! Our experience and dedication has led to us being the number one choice for so many industrial repeat customers in Dublin.
We are here to help, always!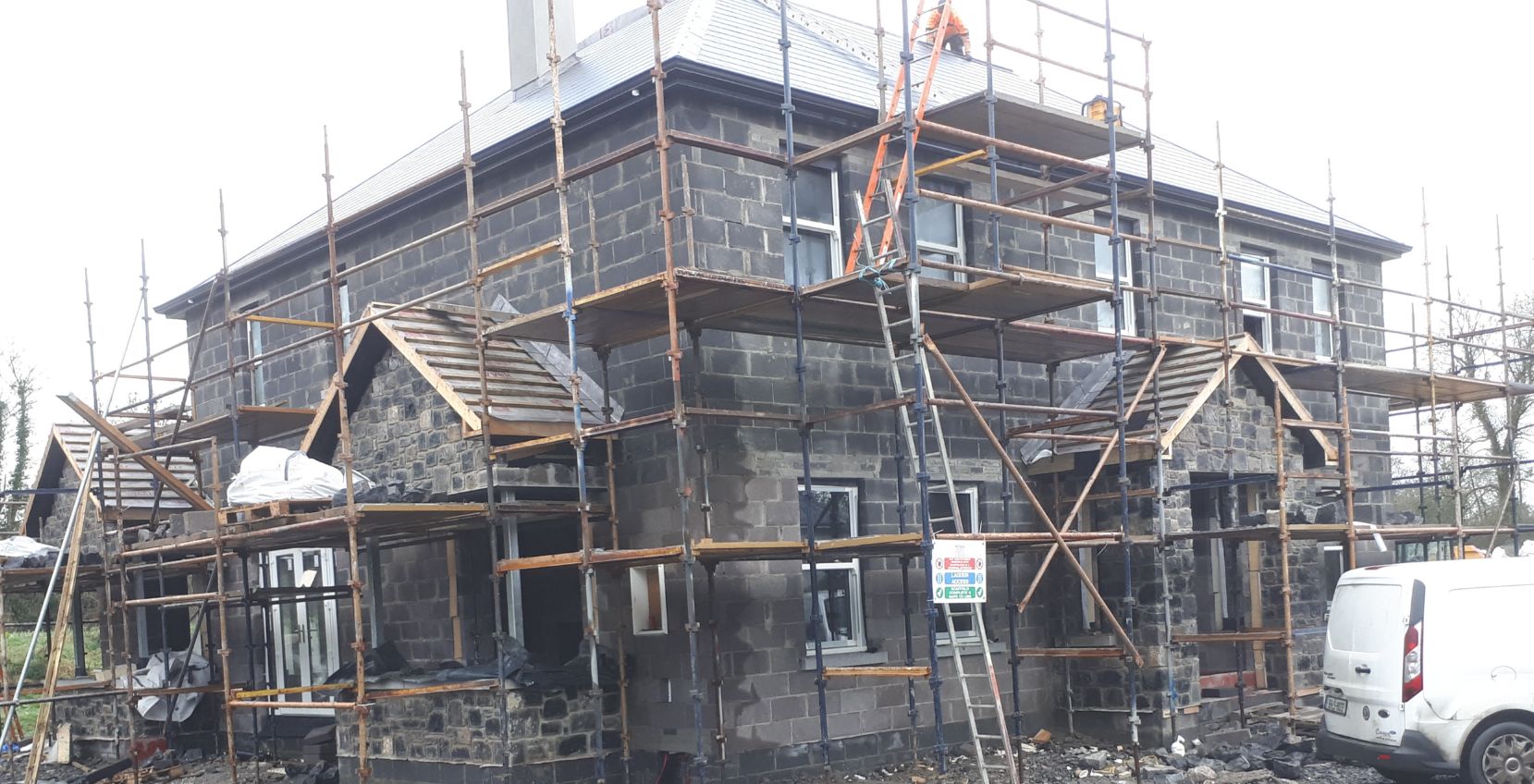 External Plastering Guide By a Dublin Plastering Experts – Hession Plastering Ltd.
Step 1 Surface Preparation
All the mortar joints must be rough, for good bonding to plaster.
Clean all the joints and surfaces of the wall with a wire brush – no oil or grease etc. should be left on wall surface.
Smooth or plastered surface? Rake out the mortar joint to a depth of at least 12 mm
Projection on the wall surface is more than 12 mm? Knock it off, for a uniform wall surface.
Cavities or holes on the surface? Fill in advance (with the appropriate material)
Get it ready – roughen the entire wall to be plastered.
Wash the mortar joints and entire wall and keep it wet for at least 6 hours before applying cement plaster.
Step 2 Plaster Preparation
Get a uniform thickness of plastering throughout the wall surface by fixing dots (patch of plaster 15 mm * 15 mm * 10mm) on the wall.
The dots are fixed on the wall horizontally first, then vertically (at a distance of about 2 meters).
Use a plumb to ensure that the dots are vertically aligned.
Apply vertical strips of plaster (screeds) between the dots. 
Apply the screeds to serve as gauges for maintaining even thickness for next application of plaster.
Step 3 Render Coat Application
Note: A brick masonry plaster coat is generally 12 mm, concrete masonry thickness varies from 9 to 15 mm.
Note 2: The ratio of cement and sand for the first coat of plaster varies from 1:3 to 1:6.
Apply the first coat of plaster between the screeds on the wall surface using a clean trowel.
Use wooden floats to level the surface and wooden straight edges.
Let this coat set but not dry.
Roughen the coat with a scratching tool to form a key to the second coat of plaster.
Step 4 Finishing Coat Application
Note: The thickness of the second coat (finishing coat) may vary between 2 to 3 mm.
Note 2: The ratio of cement and sand for second coat plaster can vary from 1:4 to 1:6.
Prepare the first coat by damping evenly.
Use wooden floats to get a true even surface and use a steel trowel to give it a finishing touch.
Note 3: The finishing coat should be applied from the top towards bottom.
Note 4: Try to complete each coat application in one operation to eliminate joining marks.
Need an expert for your external plastering project?
Hession Plastering Ltd. Always here to help!
Hession Plastering Ltd.
Why choose us?
There are many reasons to choose Hession Plastering Ltd.  Our experience, attention to detail, skilled workers, rates, customer service and attention to detail are just some of the reasons for our companies success. Quality workmanship and competitive pricing is key to our success. We offer a wide range of professional plastering services and have an impeccable safety record.
We welcome all questions – we are  here to help, always.
 We are a long established plastering business and are proud to say that we are recommended time and time again.Our plastering services (domestic, commercial or industrial) are unsurpassed. Get in touch!
Please see our gallery page for examples of our completed work.
Send Us A Message - get a quick response!